On the eve of the opening of CES 2018, AMD announced its plans for the further development of the Ryzen series.
So, AMD announced its first Ryzen desktop processors integrated graphics core Radeon Vega. They contain four cores and 6 MB cache, and the number of concurrent threads depends on the processor model. Detailed specifications of the devices are shown in the table. These chips are expected to appear on the market from February 12, 2018.

The Ryzen mobile APU Ryzen line was also announced, including the Ryzen PRO and Ryzen 3 models. They also use the integrated graphics solution Radeon Vega. Detailed technical characteristics of the chips are presented in the following tables.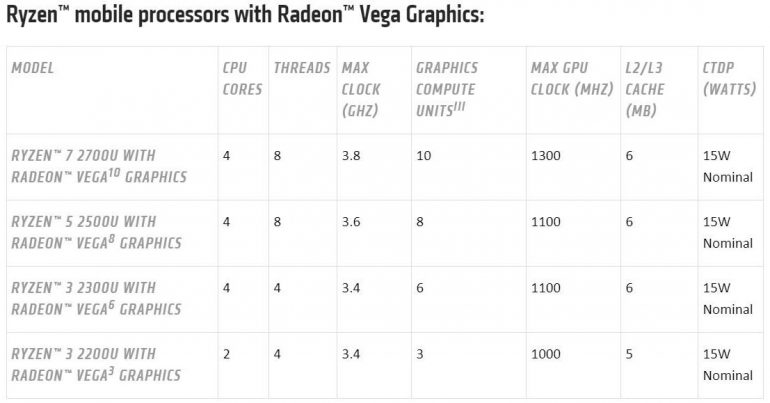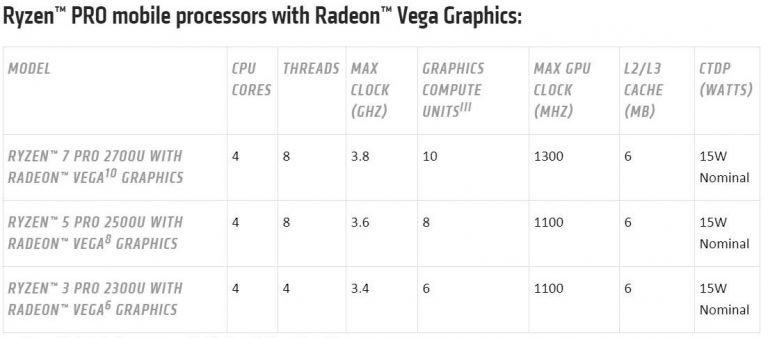 At the same time, representatives of the company told about the forthcoming Ryzen desktop processors of the second generation, manufactured according to the standards of 12-nanometer technological process. The release of such chips is scheduled for April 2018, although it was recently reported that they will appear in March, and in previous leaks as the approximate date of their presentation was called February. It is noted that the computing cores Zen, used in desktop and mobile processors Ryzen, are manufactured using 14- and 12-nm technologies, and samples of products manufactured using 12-nm process technology are already shipped to partners. In addition, the development of the Zen 2 architecture has already been completed, and it promises significant improvements over existing Zen solutions. Until 2020, AMD intends to significantly improve the overall performance and performance per watt of energy spent.
As for graphics solutions, in 2018, the Vega product line will be expanded by the release of mobile Radeon Vega GPUs for ultra-thin notebooks. Also reported on the release of the first products based on GPU Radeon Vega according to the norms of 7-nanometer process. But they are not intended for consumer video cards, but for machine learning systems.
Finally, it was said that in 2018 will be released mobile graphics solutions Radeon Vega, which will create thin, productive gaming laptops. Radeon Software will add support for HDMI 2.1 Variable Refresh Rate (VRR) technology for Radeon RX products. Finally, the game Far Cry 5 supports some specific functions of Radeon RX Vega, for example, Rapid Packed Math and Radeon FreeSync 2. Thanks to this, the owners of Radeon RX Vega video cards will be able to "enjoy" the game Far Cry 5 "with excellent image quality and stunning frame rate "
Source: techpowerup