As part of the recent exhibition Computex, G.Skill, well-known among enthusiasts due to its fast and spectacular memory, held the traditional annual overclocker tournament OC World Record Stage. This year the event was held for the seventh time. Yes, overclocking RAM is probably not as interesting as overclocking CPU or GPU, but records are another story. Especially since this time G.Skill's memory was used to achieve 13 new world records (the image below) in various disciplines, including, in fact, overclocking memory.
In the framework of the thematic "overclockers' party", the famous Taiwan master of extreme overclocking Toppc, previously not only distinguished by records in the overclocking of RAM, managed to update the record of overclocking of DDR4 memory with the help of Intel Z370 platform. In particular, the regime DDR4-5543 (24-31-31-59) submitted to a single memory module G.Skill TridentZ RGB 8 GB, installed in the MSI motherboard Z370I Gaming Pro Carbon AC next to the central processor Core i7-8700K family Coffee Lake.
The record was approved by HWBot, and now takes the first line of the rating of overclocking RAM. As usual, the cooling of RAM and processor was carried out with the help of glasses with liquid nitrogen.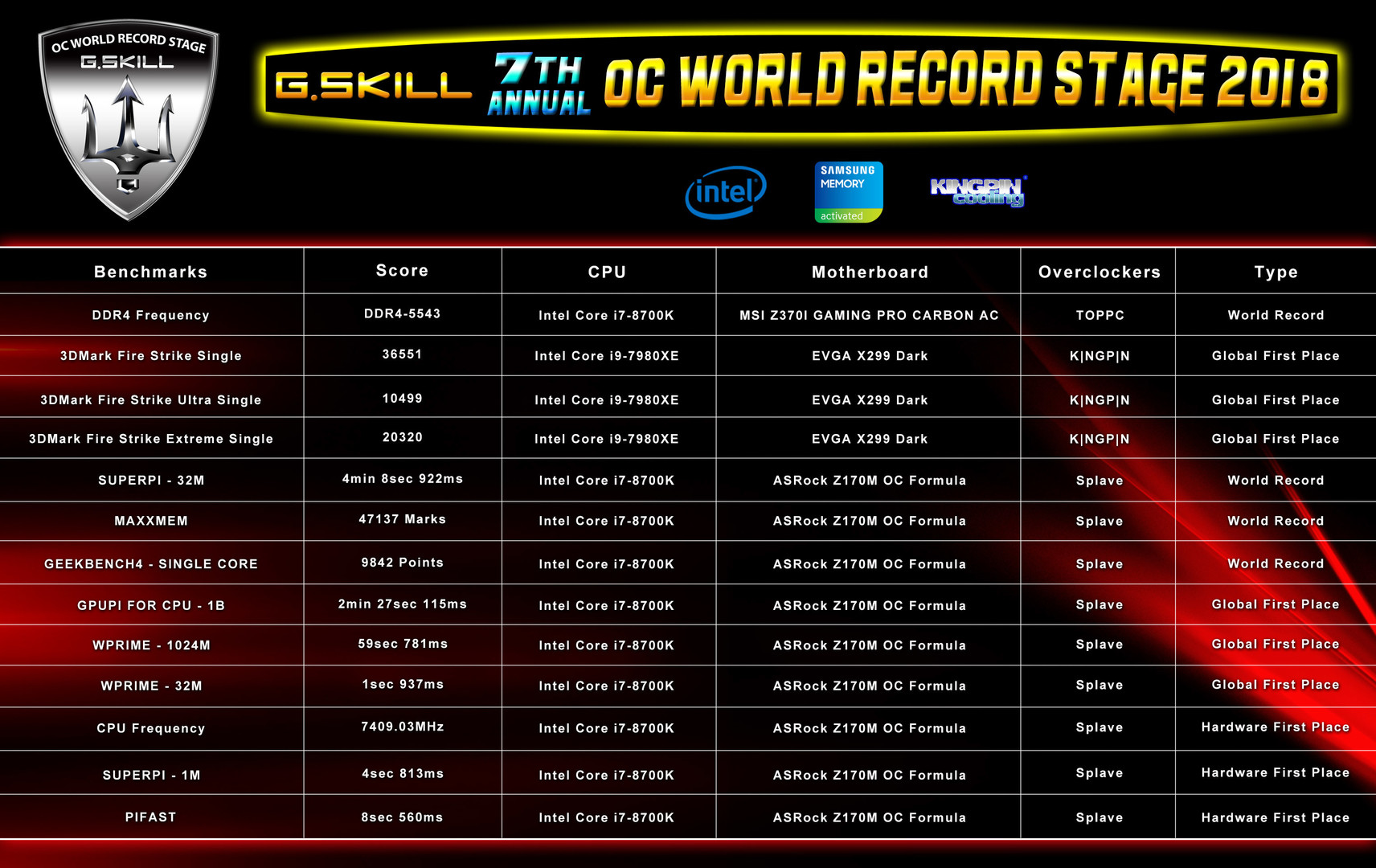 Another worthy separate mention from the table above is the overclocking of the CPU Core i7-8700K to 7409.03 MHz with three active cores and Hyper-Threading disabled. It belongs to the American overclocker Splave.
By the way, last year the Taiwanese Toppc managed to overclock the DDR4 memory to the frequency of 5500 MHz, and in the previous year to the frequency of 5000 MHz. As you can see, there is progress in overclocking, but it is insignificant and the conquest of the 6000 MHz boundary seems unlikely, at least for DDR4.
Source: TechPowerUp