Last night, the founder and head of the well-known Tesla electric vehicle manufacturer Ilon Mask once again stirred up the public, and at the same time the stock market – he said he was thinking of "making the company private "And is ready to buy out all shares at a price of $ 420 per share. Immediately specify that the final decision on the transformation of Tesla from a public company to a private company has not yet been made and is currently being considered.
Am considering taking Tesla private at $ 420. Funding secured.

– Elon Musk (@elonmusk) August 7, 2018
The amount mentioned by Mask is approximately 20% more than the share price immediately before the announcement of plans for their redemption. Now in free float is 169.79 million shares of the company. As noted by Bloomberg, taking into account the debt obligations, the current total cost of Tesla is about $ 82 billion, and the current share of the Mask is about 20%, that is, the redemption of all other shares will cost about $ 66 billion. And this will be one of the largest deals of this kind. Of course, if the plan for redemption is translated into reality.
The eccentric billionaire claims to have already found the means to repurchase shares, noting that he would like to keep all existing investors. The last he proposed not to sell shares, but to save them and move into a private form of ownership.
Initially, Mask announced plans to redeem Tesla shares, as usual, on his Twitter, but later an official statement appeared on the Tesla website. In his address, the head noted that, as a public company, Tesla is forced to disperse its attention and respond to short-term challenges, while its main mission requires full concentration on long-term goals. Mask also mentioned the "huge pressure" due to quarterly earnings reports, as well as constant attacks from interested parties. In other words, after buying shares and leaving the stock exchange, Mask expects to get rid of the negative impact of the stock market.
It remains to add that by the results of trades on August 7, the growth of Tesla shares was 10.99% – they rose to $ 379.57 apiece. Reacting to this sharp jump, the Nasdaq exchange temporarily suspended trading in Tesla shares. Messages Mask influenced the market. Usually, companies suspend trading before such statements, to minimize the jumps on the stock exchange and comply with the instructions of the Securities Securities Commission (SEC), explains the Washington Post. As former chairman of the SEC Harvey Pitt said, if these reports about plans for the repurchase of shares are not true, then the Mask may have problems with regulators, since such actions can be regarded as speculation.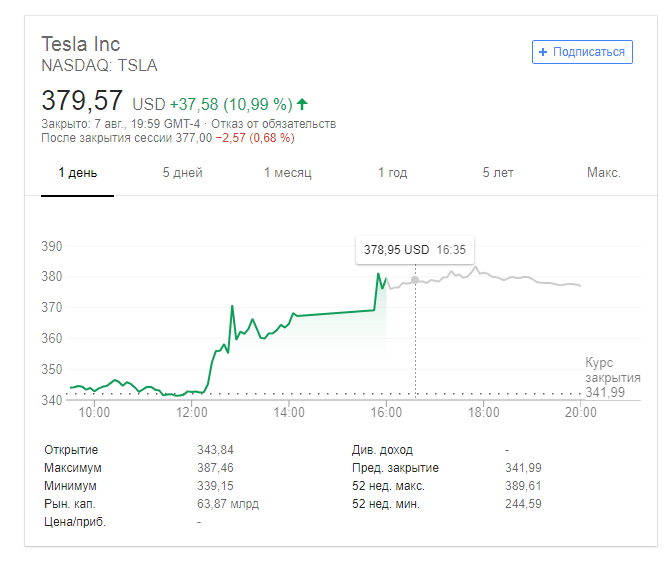 Tesla ended with a net loss of $ 742.7 million against a loss of $ 385.78 million a year earlier and a loss of $ 784.63 million in the first quarter.
Source: Tesla