Today the presentation of KIA Stinger – one of the most interesting cars of the company, a true techno and sports flagship of "Koreans" was held. Initially, Ukraine brought a batch of ten cars, a model range opens with a motor version of 2.0 247 hp. for $ 43 thousand, and at the top – all-wheel drive 370-strong car for $ 66.8 thousand. What is KIA Stinger in detail and what is the market situation with him – I tell in this report.
KIA Stinger: what is this?
In fact – it's fastbike: the tailgate rear tailgate with glass (like a hatchback), but a separate-serving small "shelf" of the trunk (like a sedan). A similar body is used today, for example, for cars Audi A5 Sportback, BMW 3 GT, BMW 4 Gran Coupe, BMW 5 GT. What, took too much in the selection of competitors? But the whole truth is that it is there that KIA Stinger is aiming! This is a powerful, dynamic car for a quick ride – at least for every day, even for long trips, a sort of "practical GT". After all, the dimensions of the body (length 4.83 m and base 2.9 m), a spacious interior, a good trunk (406-1104 l) allow you to travel the whole family.
And you can travel slowly, but you can quickly: even the basic version offers 2-liter petrol turbo-engine, which develops 247 hp. and 353 Nm. According to the manufacturer, the car with this engine and the rear drive accelerates 0-100 km / h in 6 seconds and develops 240 km / h "max." For fans of "hot" there is a version with a 3.3-liter V6 engine: thanks to two turbines and direct fuel injection, this engine provides a power of 370 hp. and 510 Nm of torque. KIA Stinger with the V6 engine is offered with all-wheel drive and in the GT package – and it's not just all sorts of "sport decor", but also technical changes: Brembo brakes in front and behind, a modified main pair, other gear ratios in the automatic transmission. The result: 0-100 km / h in 4.9 seconds and a top speed of 270 km / h is the fastest car in the history of the KIA!
Not bad with the technique, and what with the kit?
To be quite accurate, for Ukraine prepared three different versions. First, 2.0 liters of 247 hp. and equipment Prestige: rear-wheel drive, 8-st. Automatic transmission, a system for monitoring blind spots of mirrors, a function of controlling the number of movements, seven airbags, a 2-zone "climate", an electric drive and memory positions for the driver's seat, leather interior, automatic parking, projection screen, light and rain sensors, a panoramic roof, an 8-inch touch screen in the cabin, a Harman / Kardon audio system with a power of 720 watts. This car is estimated at $ 43 thousand
The GT-Line version for $ 49 thousand is located on the step above: the similar engine is 2.0 l and 8-st. Automatic transmission, but already a full drive and an expanded complete set. For example, there is a 360-degree view system, electronically adjustable shock absorbers, a D-shaped sports steering wheel, Supervision instrument panel, 19-inch wheels, GT-Line package. And at the top of the model range is the same version of the GT with a powerful V6 engine, Brembo brakes, Nappa leather in the cabin. The price is $ 66.8 thousand
Wow, KIA Stinger is cool! But the price …
Yes, the price is considerable. After all, in the range of $ 43-67 thousand, you can just buy an Audi A5 Sportback or a BMW 4 Gran Coupe, which were mentioned above. For fans of dynamic large sedans there is a BMW 5-series or Infiniti Q70. And for fans of exclusivity and originality – there is Alfa Romeo Giulia, updated Infiniti Q50 and Lexus IS … Of course, this is all batch offers and / or various promotions. Of course, the kit is different in favor of KIA. However, the "strength of the brand" also plays a role – and here the positions of KIA Stinger are no longer so strong. But the "Koreans" are boldly moving forward, not specifically putting such high-end cars in a separate subbrand with a hint of "premium": the point is that cars like KIA Stinger raise the overall prestige of the KIA brand in the eyes of buyers.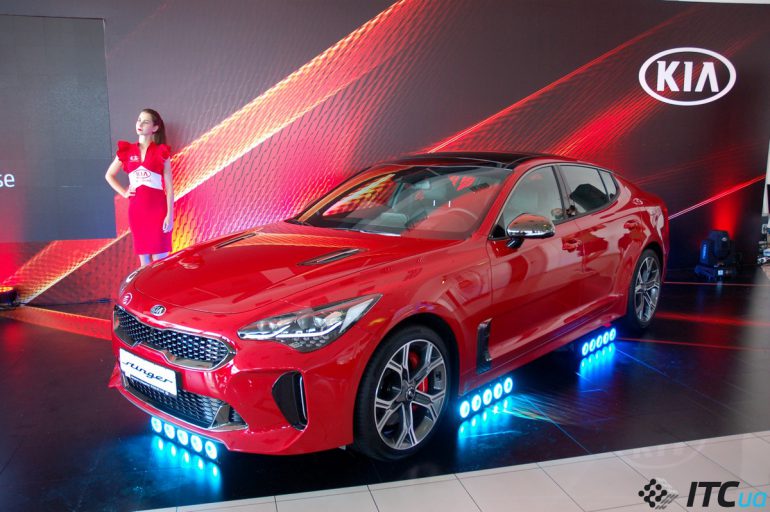 The quota allocated for Ukraine for the whole of 2018 is only ten cars. Most are presented in 2-liter versions, but they brought a couple of models with a V6 engine, one of them already sold. I hope the buyer will be satisfied, because KIA Stinger was "taught to ride" by Albert Biermann, who in the past was one of the key engineers in the BMW M! Department.
Wow, BMW M – does KIA Stinger "fall"?
And here I will not answer, because the presentation was held in a static format: showed the car, told the details, that's all … But I want to believe that our meeting with KIA was not the last and in the future these Korean cars will appear in our reviews. Crossovers, sedans, hatchbacks, and who knows – maybe KIA Stinger.