At the event dedicated to the 70th anniversary of the division of Porsche sports cars, the company's management announced the official name of its first production electric vehicle, under the name Mission E. The electromobile was named Porsche Taycan, which in free translation means "cheerful stallion" or "full-life young horse" (lively young horse).
Note that this image is not borrowed m at Ferrari or Mustang, since Porsche uses a prancing horse in the logo since 1952. The German automaker, in principle, invests quite a lot in the designation of its cars, in contrast to the same Tesla. For example, Boxster stands for a combination of boxer engine and roadster; Panamera brings a tribute to the victory in the race for a long distance Panamericana; Cayenne (hot pepper) emphasizes malice, Cayman (crocodile) – sharpness and mobility, and Macan (tiger) – flexibility, strength and dynamics.
The basic version of the serial electric vehicle Porsche Taycan will receive an electric propulsion system with a capacity of 600 hp. (440 kW), which can accelerate the model to 100 km / h in less than 3.5 seconds and 200 km / h in less than 12 seconds. The power reserve from the full charge of the batteries is 500 km according to the NEDC measuring cycle. Also, several modifications of the electric vehicle with different power, battery volume and drive only to the rear or both axles are expected to appear.
The serial Porsche Taycan will be assembled in 2020 in Zuffenhausen (Germany) where a separate paint shop and assembly area , and the existing engine manufacturing plant will be expanded to meet the needs of the new model – as a result, about 1200 new jobs will be created.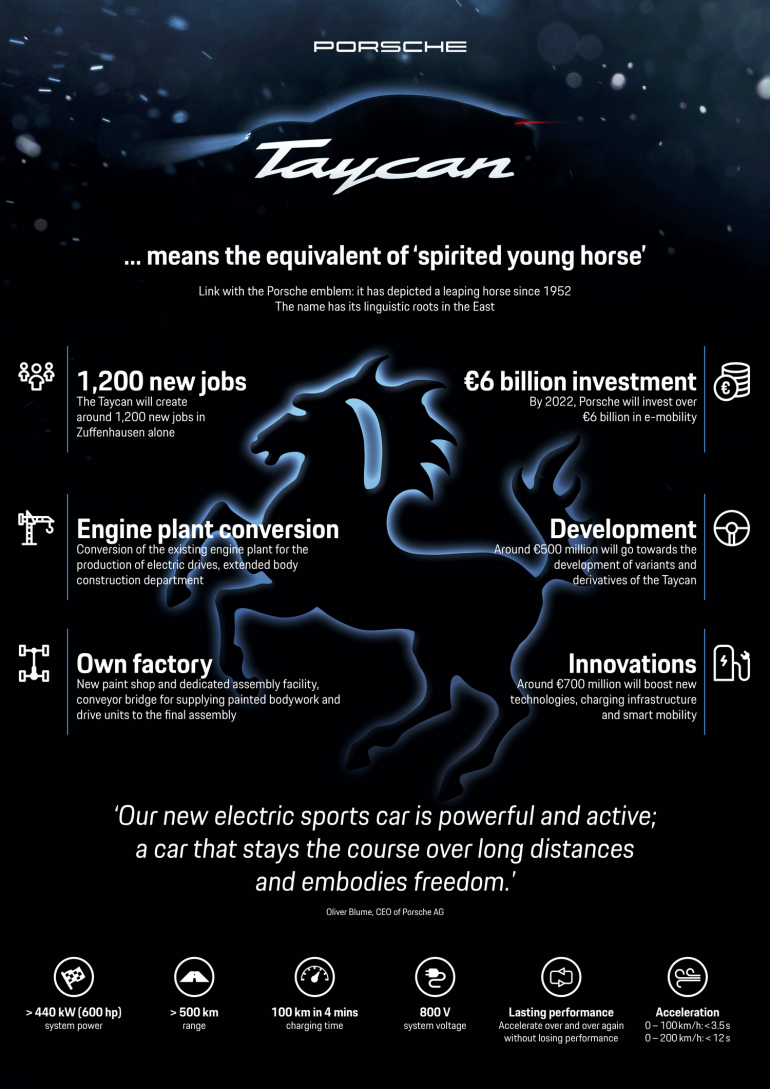 Recall that until 2022 Porsche plans to invest in electric vehicles more than 6 billion euros , of which 500 million euros will go to create different versions of the Porsche Taycan (for example, to the Cross Turismo electric tractor), 1 billion euros to electrify and hybridize the existing product line, as well as to expand production, charging infrastructure and new technologies.
Source : Porsche