The most popular in Ukraine and one of the most popular electric vehicles in the world, Nissan Leaf can not boast of a battery capacity. If we talk about second-hand copies, then this is 24 kWh or 30 kWh, if we take into account the new model, then this is 40 kWh. Compare this with the budget Tesla Model 3, whose owners can choose a battery of 50 or 75 kWh and you will understand why the fans of the Nissan Leaf are waiting for an updated version with a battery of 60 kWh.
As recently as last year, the automaker said that in 2019 will release a version of the Nissan Leaf E-Plus with a 160 kW engine, a 60 kWh battery and a 360 km power reserve, and now there are first real testimonials of testing this model.
Swiss manufacturer of high-speed charging stations EVTEC published photos on which the new generation Nissan Leaf with battery th at 60 kWh is charged from a memory with a power of 100 kWh with a CHAdeMO connector. It is assumed that Nissan will finally equip the batteries of electric vehicles with a temperature control system, which will allow it to be charged much faster on high-speed charges.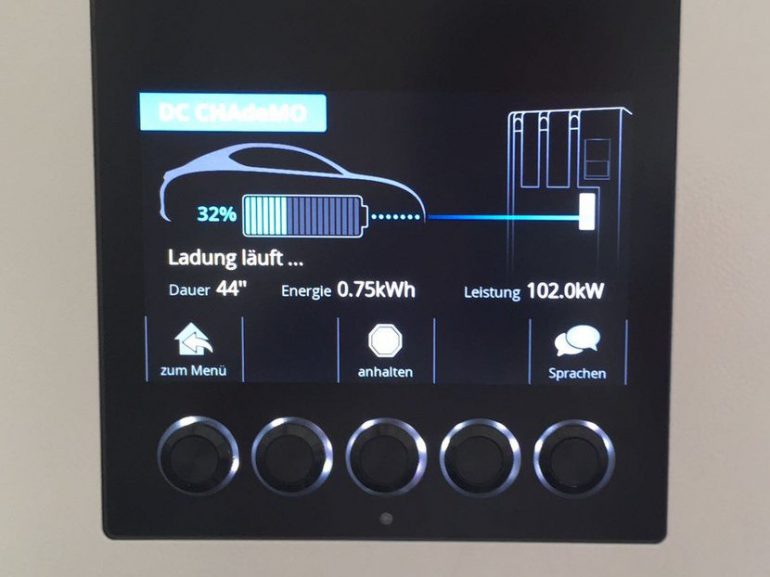 Recall that the Japanese manufacturer introduced the electric car Nissan Leaf 2018 model year last fall. The novelty received a radically redesigned design, a new 110 kW / 150 hp electric motor. with a torque of 320 nm (the predecessor – 80 kW / 110 hp and 280 nm, respectively), as well as a battery of 40 kWh, which provides a range of 240 km (150 miles) in the US EPA cycle or 400 km in the Japanese cycle Japan JC08.
The charge time to 100% is 16 hours with 3 kW charging, 8 hours with 6 kW charging and 40 minutes from 0 to 80% with high-speed charging.
Source: Electrek