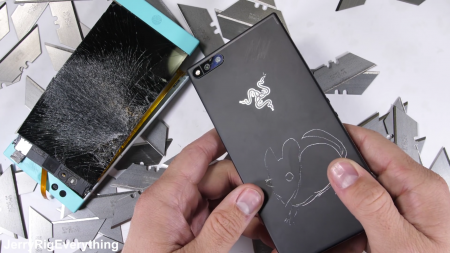 The Razer Phone gaming smartphone was is presented at the beginning of this month but US users are already free to purchase it and conduct tests for strength. This chance was taken by the blogger JerryRigEverything, who at the very first minute of the video remembered the fate of the younger brother of the new model Nextbit Robin and in the end completely disassembled the novelty.
If suddenly you did not watch that release, then pretty overall the device in the plastic case turned out to be excessively flexible, which made it possible to practically fold it in half with not the most serious effort. However, given the fact that the Razer Phone case is made by milling from a single piece of aluminum, the problems with the strength of the smartphone should be much less.
The glass of the display could be scratched only from the sixth strength level, which is typical for almost all modern smartphones . The screen reacted to the flame of the lighter with a local black spot that quite quickly came to naught without special consequences for the 120 Hz IPS screen.
The stationery knife left visible marks on the front panel protective panels, lens protection and the metal body itself with black finish. They also managed to pick up the Razer logo on the back of the smartphone, partially tearing it from the case (recall that the model has a special version with a bright green logo). However, in everyday use it will be difficult to achieve such deep scratches, unless the owner wants to apply them specially.
Well, the most interesting is the bend test. Aluminum was expected to be stronger than plastic, so the tester could not break Razer Phone. At the same time, the body itself had a residual bend, one side face of the body received an unpleasant bend-convexity, and the second one partially burst at the place where it was most weakly buttoned.
The "sweet" JerryRigEverything disassembled the smartphone, demonstrating the construction and a reinforced cooling system based on a heat pipe.
Source: JerryRigEverything